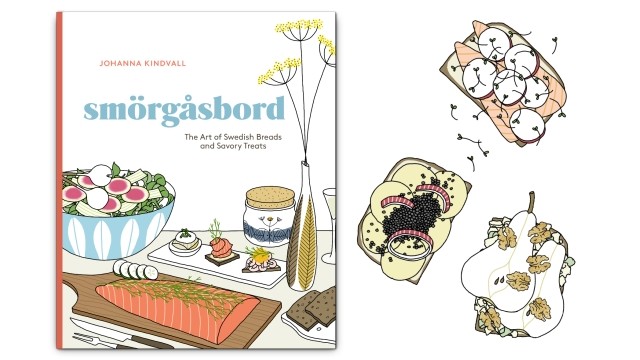 Smörgåsbord: The Art of Swedish Breads and Savory Treats
Smörgåsbord – The Art of Swedish Bread and Savory Treats is my 2nd illustrated cookbook. Published by Ten Speed Press, September 2017. The book is illustrated by me, layout by Lizzy Allen, and edits Kaitlin Ketchum.
"Her first solo book is "beyond beautiful. She's a wonderful artist and illustrator. It's got all the elements of hygge in it, and it offers a new way of thinking about small plates." – Judith Rosen, Publishers Weekly
The book is a celebration of the Swedish tradition Smörgåsbord which is a festive buffet with dishes like cured herring, gravlax, cold cuts, pickles, salads, and meatballs. This table with its well balanced flavors of sweet, sour, and salt is an excellent display of Nordic cuisine.
As the word Smörgåsbord is composed of two words; smörgås (open-faced-sandwich) and bord (table), the dishes are often served with several different types of bread, butter (smör), and cheese. A traditional smörgåsbord is set up in a separate room and the table can sometimes be several meters long and consist of over 100 dishes.
At a time when we have too many things on our minds, it's hard to find the time to prepare a whole smörgåsbord. The intention of this book is to inspire you to make smaller portions as festive starters or individual smörgås bites. Every dish in the book includes pairing suggestions so you can easily create your own personal smörgåsbord spreads. The dishes can be as simple as deviled eggs, or more ambitious with freshly baked rye bread paired with hot smoked salmon, homemade pickles, and marinated mustard seeds.
—
Reprinted with permission from Smörgåsbord by Johanna Kindvall, copyright © 2015, published by Ten Speed Press, an imprint of Penguin Random House LLC.