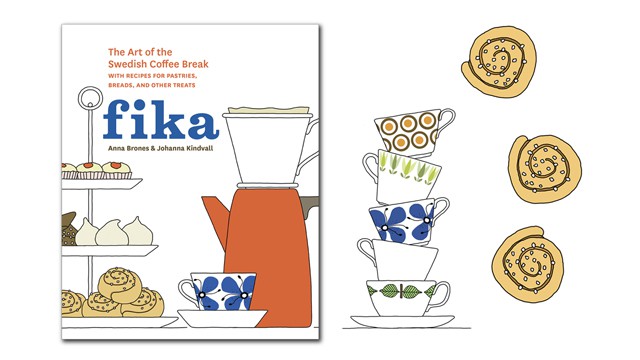 FIKA – The Art of the Swedish Coffee Break
Fika – The Art of the Swedish Coffee Break is my 1st book. The book is a collaboration together with food writer Anna Brones. Published by Ten Speed Press, Spring 2015.
The book is a celebration of the Swedish coffee break, fika. Something that most Swedes do daily, sometimes even twice. At work, at home or together with friends. Doesn't matter where, when or how, for a Swede this break is essential. And the best fika comes with a treat, sweet or savory.
In the book Anna and I share almost 50 of our favorite fika recipes of cakes, cookies & buns etc. The book is illustrated by me and the content is written by Anna. The book was designed by  Elizabeth Stromberg, Ten Speed Press.
(click any of the selected spreads to enlarge).
"To aid readers in integrating the practice into their own lives, Brones and Kindvall trace the history of the concept and cleverly lay out all the necessities from baking tools and methods to mastering the Fika vernacular, and include suggestions for where (anywhere!), when (all the time!) and how to enjoy it." – Lindsey Tramuta, NYTIMES
"Swedish classics like kanelbullar (cinnamon buns spiced with cardamom) and hasselnötsflarn (simple cookies best dipped in a fresh cup of coffee) are easily explained and aided by Kindvall's upbeat illustrations." – Hans Aschim, Cool Hunting
"With whimsical descriptions and playful illustrations, the book is as charming as the tradition itself." – Alison Spiegel The Huffington Post
—
Reprinted with permission from Fika, by Anna Brones & Johanna Kindvall, copyright © 2015, published by Ten Speed Press, an imprint of Penguin Random House LLC.